Meet Bonnie and Josh who reconnected on Facebook. Bonnie shares her Facebook Love Story with us.
Josh and I met about thirty years ago at an advertising agency in New York.  Working in different departments meant that our professional paths didn't cross much, but we often rode the Fifth Avenue bus home together, as our apartments were in the same neighborhood.

We really enjoyed being "bus buddies" each evening, sharing the events of the day and laughing through it all. Eventually, I left my job, got married and moved to Connecticut, where I raised two children.  Josh got married and stayed in the city, and we completely lost touch.

About 3 years ago, my son decided it was time for me to have a Facebook page.  I'd gotten divorced, had very little in the way of a social life, and he thought I'd have fun looking up old friends.  After balking a bit at first (Mothers don't do Facebook, I thought), I began to ask myself who I'd like to look up.  I thought of Josh, but my Facebook search for him turned up no results.  A strong intuition told me to try again, so six weeks later I did… and there he was.

I sent him a message asking if he remembered me and he responded within hours, so excited to hear from me.  Within three days we were talking on the phone for hours at a time, and within weeks we made a date for dinner (Josh's birthday).  He showed up with carrot cake and a dozen bagels (he owns Eisenberg's; a landmark restaurant in NYC) and I was hooked.  We were engaged the following New Year's Eve, and were married last August at a friend's home in Connecticut.

The wedding cake was a delicious Fifth Avenue bus. Now here we are again, sharing our lives and laughing through it all.  In my wildest dreams I'd never have imagined that Facebook would change my life, but it did.  It reconnected me with Josh, and I consider it a miracle.
Congratulations to Bonnie and Josh on finding love on Facebook.
Have you ever searched online for your digital crush?
Do you have a Facebook Love Story to share? Read about our other Facebook Love Stories.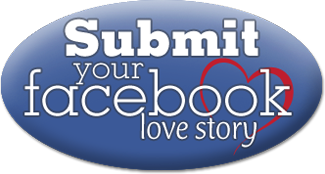 FacebookLoveStories.com celebrates those who have found love on the world's largest social network. If you know someone who met on Facebook, invite them to share their Facebook Love Story. For more Facebook dating advice and stories, follow @FBLoveStories on Twitter.