If you're in a new relationship or have just started dating someone, the pressure could be high around Valentine's Day.
Perhaps you've just been chatting with someone on Facebook, and haven't had the time to meet in person yet. Maybe Valentine's Day will be your first or second date. If so, it's unlikely that you'll know the actual address where your digital crush lives.
If this is the case, overwhelming someone with a lavish present may make him or her feel uncomfortable. The Discover card 2013 Valentine's Day Shopping Survey found that 45% of consumers expect to spend $25 on Valentine's Day, so there's no need to break the bank.
If you're already friends on Facebook, the world's largest social network is making it easy for you to send someone a Valentine's gift this year, without having to leave the house or your computer behind.
How do you use Facebook gifts?
1. Visit the profile home page of the object of your affection or a friend you'd like to spoil this Valentine's Day.
2. You'll notice the red and white gift box above the status update. Click on the gift icon, where a variety of gift options will appear.
3. Select a gift within your budget and then select an eCard to go along with the gift. You'll have the option to share that you sent a gift to your friend or loved on on Facebook or keep it just to yourself.
4. Put in your credit card information and you're done.
5. Facebook will notify the recipient that they've received a gift from you. They can then provide their address anonymously and be surprised when it arrives.
Even if their gift arrives after Valentine's Day, they'll know that you made the effort to select it in time. If they don't accept the gift within 2 weeks, it will be automatically canceled and your credit card will be refunded.
Not sure which gifts to select?
Here are some of our favorite gift ideas to the object of your affection, or your BFF.
1. iTunes Gift Card.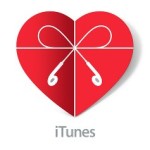 Who doesn't love music? Let him or her pick their favorite love songs this Valentine's Day. $10-$50.
2. Starbucks or a Caffeine-Filled Gift Card.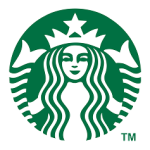 If you went on a first date for coffee, and you know he or she is a caffeine junkie, you can memorialize the day with a gift card to Starbuck's  $5-25.
3. The L-O-V-E Strawberry Gram.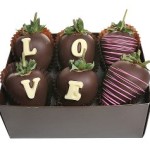 These six juicy, premium strawberries are hand-dipped in delicious dark Belgian chocolate and decorated with white chocolate lettering to spell L-O-V-E or drizzled with colorful confection. Presented in an elegant gift box, they're the perfect Valentine's treat for someone who's been waiting to hear those special three words. $15.
4. Valentine's Apple hand-dipped in Caramel and Chocolate.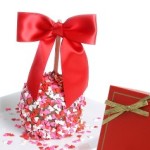 This Valentine's Day treat is both healthy and blissfully decadent: the granny smith apple is covered first in delicious caramel, then hand-dipped in dark Belgian chocolate and artfully decorated with elegant satin bow. It's a sweet way to celebrate a Valentine. $13.
5. Sweet Pea Candle Tin.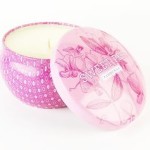 If you're counting calories this year, ditch the chocolate idea and present her with a romantic soy candle to help spark the romance. $11.

6. Anti-Valentine's Candy.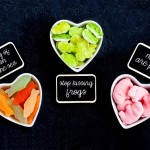 Sending a gift to your single friend? Check out the Anti-Valentine's Candy, which celebrates his or her single-hood. You can let your friend know it's time to "Stop Kissing Frogs" or encourage them with "Plenty of Fish in the Sea" candies. $5.
7. Pick Up Lines Coaster Set.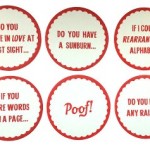 Looking for a last minute date? Try these cute pick-up lines coasters or send a set to your single friends to help them if they're feeling shy. From "Do you believe in love at first sight…Or should I walk by again?" to "Do you have a sunburn…Or are you always this hot?" they're worth a chuckle or two. $15.
If you select gifts $15 and under, you'll find Valentine's gifts for every relationship status, which are within most people's budget.
What will you be purchasing this Valentine's Day?
FacebookLoveStories.com features real-life people who have fallen in love on Facebook, along with dating advice to enjoy on the world's largest social network. Follow @FBLoveStories on Twitter and submit your Facebook Love Story.