Meet Meca and Anthony who found love when they weren't looking for it on Facebook.
Both Meca and Anthony shared a lot of mutual friends on Facebook. The two even attended offline events at the same time twice, but never actually met in-real-life (IRL).
For about four years, Meca and Anthony were digital friends on Facebook, but they never really had much contact with each other.
Since Meca was divorced, she spent time on online dating sites looking for someone special to date. Last spring she began blogging about her experiences with online dating and posted them on her Facebook page.  At the same time, she was super-busy with her start-up business.
Anthony enjoyed reading her blogposts and would send her messages in private emails on Facebook. He wanted to know why a girl like her was single. Their romance developed on Facebook chat privately and finally they decided to exchange phone numbers.
Meca was very hesitant at first, especially as Anthony was an artist. As an accessory designer, Meca didn't think she wanted to date an abstract painter. "I don't date artists," she proclaimed. Soon they discovered that they were indeed soul mates and have been together for seven blissful months.
The two remain friends on Facebook, where Meca is very social and posts random daily updates about her personal life and business. Anthony posts about twice a week. They've decided to save the mushy stuff for the privacy of their inbox.
Congratulations to Meca and Anthony, our featured Facebook Love Story couple of the Week.
Do you have a Facebook Love Story to share?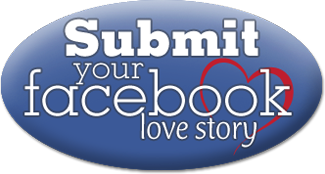 FacebookLoveStories.com celebrates those who have found love on the world's largest social network. If you know someone who met on Facebook, invite them to share their Facebook Love Story. For more Facebook dating advice and stories, follow @FBLoveStories on Twitter.